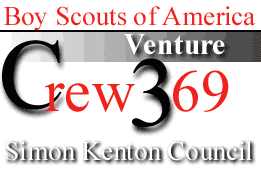 ---
Venturing Crew 369 is extreamly proud to have Azgard of Australia as its Sister Unit!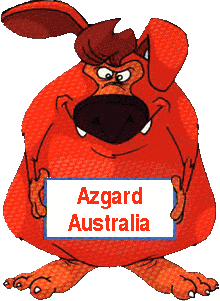 Azgard Venturer Unit
A Brief Unit History
In 1995 after 7th Doveton Venturer Unit after being in recess for several years was reactivated with an all-7th Doveton membership, plus one.

Since 1995 the Unit has changed in size, make up and membership base. The Unit now draws on five Groups for its members. These members come from as far apart as Pakenham, Dandenong, Cranbourne and all points in between. From a male dominated Unit to our current 1:3 female/male split.

Since the Unit was reactivated it has enjoyed a wide variety of successes and activities. Everything from Abseiling to both Ventures, Hovercrafting to Parascending and many more.

In 1998 and again in 1999 it was suggested that the Unit split into to two Units with one of them retaining the Doveton identity. The Unit rejected this very strongly. (It was again a contentious issue in 2000)

With the changes in its membership base and orientation the Unit decided it was time to seek a more appropriate name for itself.

After much discussion it was decided that, as a person's home is his or her castle, and because the second hall we are using looks like a log castle to adopt the name Asgard. Often depicted as a log cabin castle. It is also the name for the home for the Norse Gods.

We added a small change to our name by spelling it with a z instead of an s. A new name meant a new scarf. But this discussion was a lot shorter and a decision was soon made. The main criteria being that it had to be a completely different colour to every group in the District. The silver stripe near the edge was chosen for contrast but the lightening flash was added to show a difference and because we never do what is expected.

The process of seeking formal recognition of our name change and scarf took nearly six months. It seemed as if everyone has the right to have his or her say. From Group Council all the way up to Branch.

Then more delay as our original authorisation and notification went missing in the post. However the time and day arrived and our District Commissioner Mr Steven Sheridan formally presented the Unit's new scarves on Friday, 23rd March 2001.

Home | Advisor/Leader | 7th Doveton's Web Site
This page has been accessed $pagecount"; ?> times. Since March 26th, 2001
This site has had echo totalhits(); ?> times.